Back in late January I was fortunate enough to be awarded Sitecore Technology MVP 2018. For anyone in the Sitecore Community this is a great privilege as there are only 208 Technology MVP's worldwide and 20 in the UK.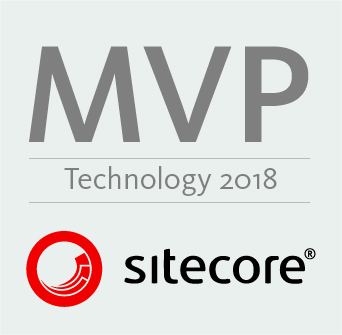 I hadn't got round to writing on my Blog about it at the time so I thought it would be good to talk about my experience so far this year as an MVP and also what my plans are for this year.
Every year, the Sitecore MVP Awards honour individuals with a passion for sharing their knowledge and expertise through active participation in online and offline Sitecore communities.
Sitecore has an fantastic community of developers who really try and help one another out both online and offline and share their knowledge and expertise whenever they can.
If you want to see the full list of Sitecore MVPs for 2018 you can see it here: https://mvp.sitecore.net/MVPs/2018
As an MVP there are a number of benefits; such as getting to give feedback to Sitecore on things they are working on, access to additional resources and Community Groups and gaining early knowledge of future releases & features coming out of Sitecore HQ.
How Do I Become an MVP?
I've seen this asked a few times on Twitter, Slack and Stack Exchange etc and I think the consensus is that you shouldn't aim to become an Sitecore MVP but should instead try and get involved in the Sitecore Community as much as possible.
Share what you learn on a Blog,  get involved in Sitecore Stack Exchange (SSE) by posting both questions and answers, join in on Sitecore Slack anad get involved in your local Sitecore User Group. Maybe do a presentation or two and share your learnings and expertise.
This is a great post on SSE from Mark Cassidy with more ideas of how you can get involved in the Sitecore Community: https://sitecore.stackexchange.com/questions/1689/how-can-i-connect-with-the-sitecore-community.
By getting involved in the Community like this if you feel you've contributed enough you can nominate yourself (usually in November) and ask others to recommend you too.
You can read more about the MVP program here: https://mvp.sitecore.net/become-an-mvp
There is also an excellent SSE post here about becoming an MVP by Tamas Varga (who is an Technical Evangelist at Sitecore and works on the MVP Team): https://sitecore.stackexchange.com/questions/5796/how-to-become-a-sitecore-mvp
My Plans For 2018 as an MVP
Since becoming an MVP I've tried to continue being active in the Community and have written some useful blog posts on Installing Sitecore 9 Update 1 and Getting Started with JSS.
Part 2 of working with Sitecore JSS is coming up soon and I'll be giving a talk on this at the next Manchester meetup along with 2 talks from other Sitecore MVPs:
I'm planning on giving an overview of installing JSS. I'll then be going into more detail on and getting up and running and building components. Hopefully this will be one of a number of presentations I'll get to do this year.
I'm also hoping to build my first Sitecore Module and share it on the Marketplace this year. I've got a few interesting ideas so watch this space.
I'm really looking forward to learning more about Sitecore 9 and catching up with the Sitecore Community & other Sitecore MVPs at SUGCON in Berlin next month and the MVP Summit at Symposium later this year.
Lastly I wanted to say thanks to Sitecore and the great Community for recognising my contributions and particularly the MVPs and Sitecore staff that recommended me (you know who you are :-)).